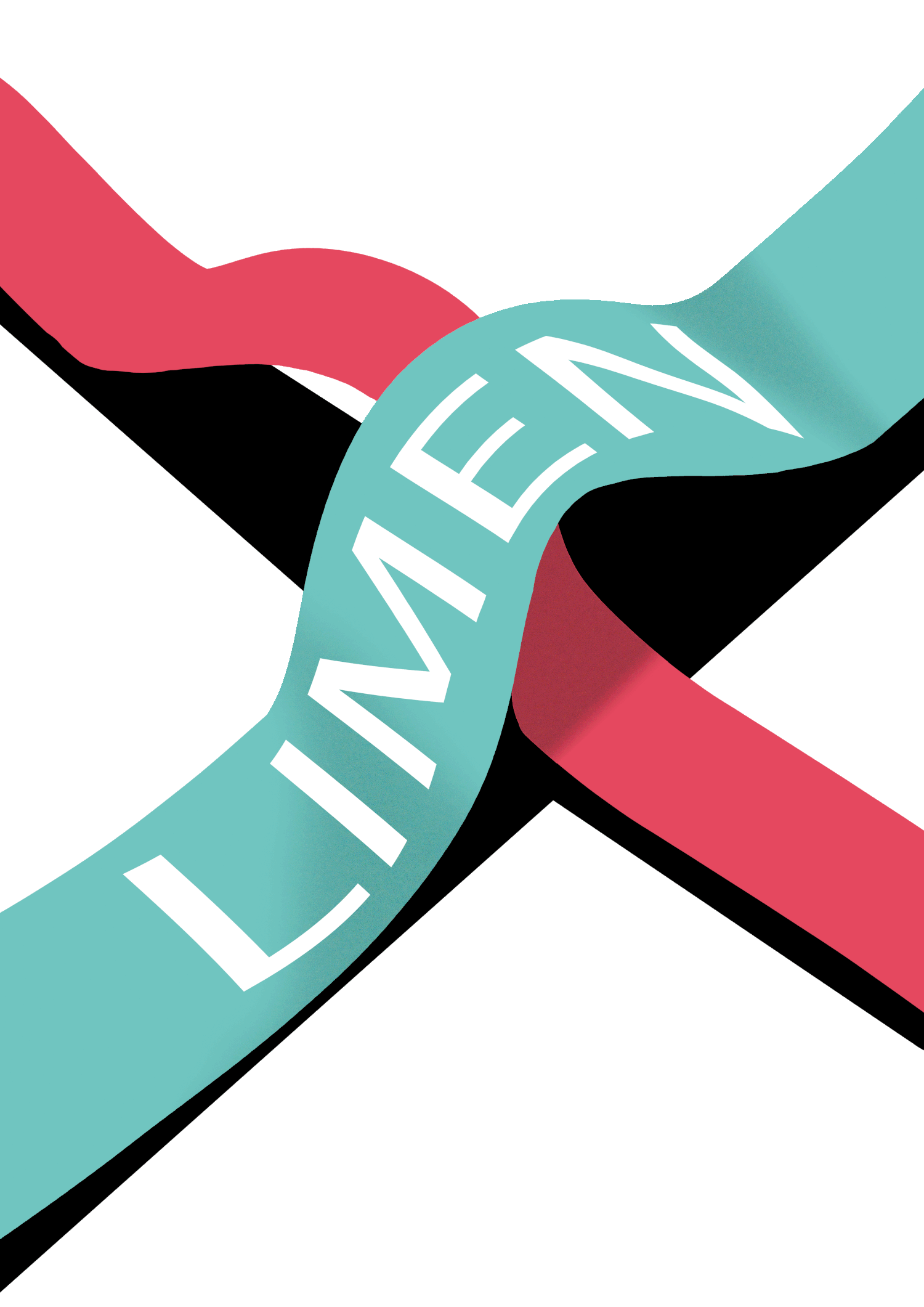 SELF AND OTHERS
exploring the concept of the border
as it is connected to the self,
the individual and the body
in relation to the collective
and the others
LIMEN is a project by:
Accademia Unidee - Fondazione Pistoletto
BEAR - ArtEZ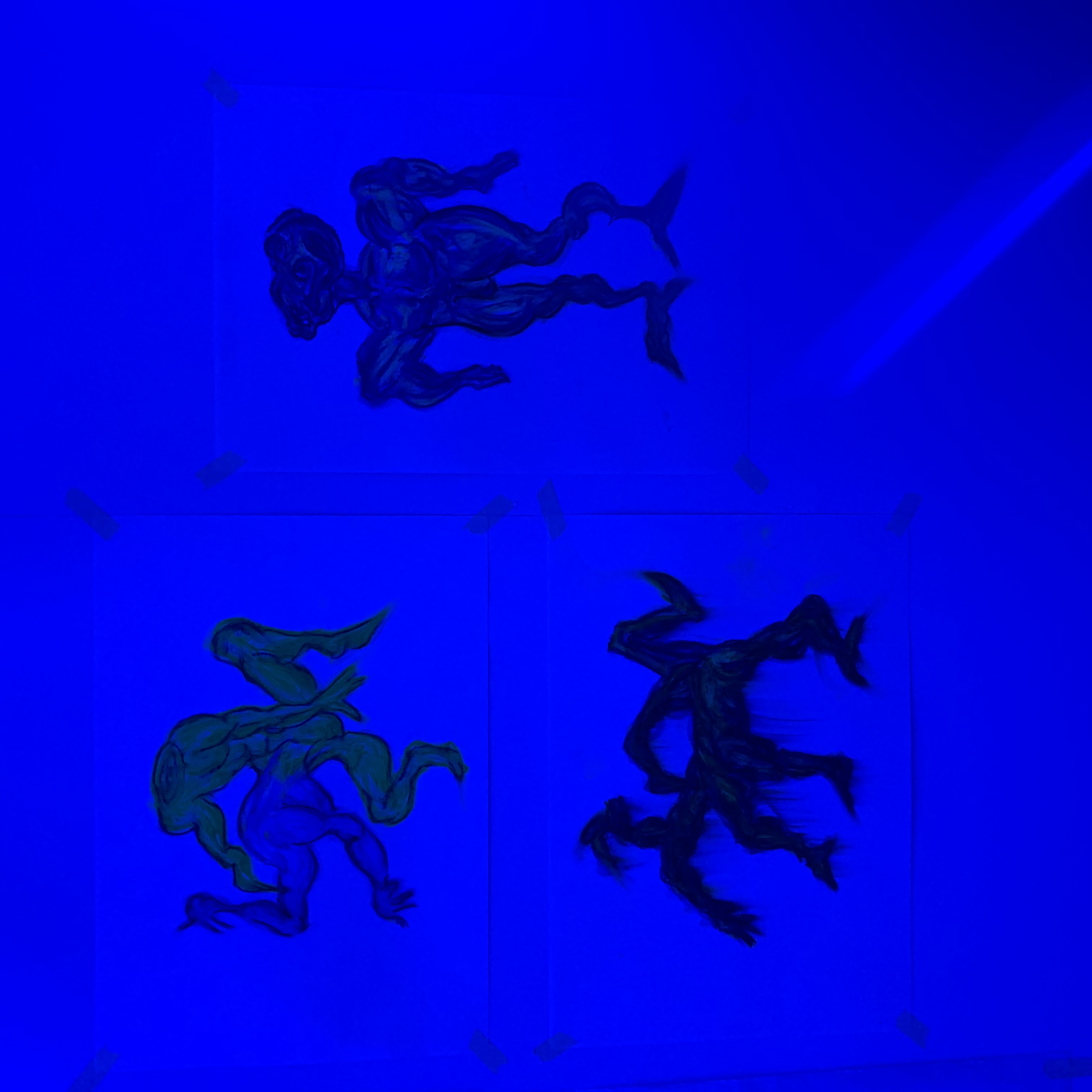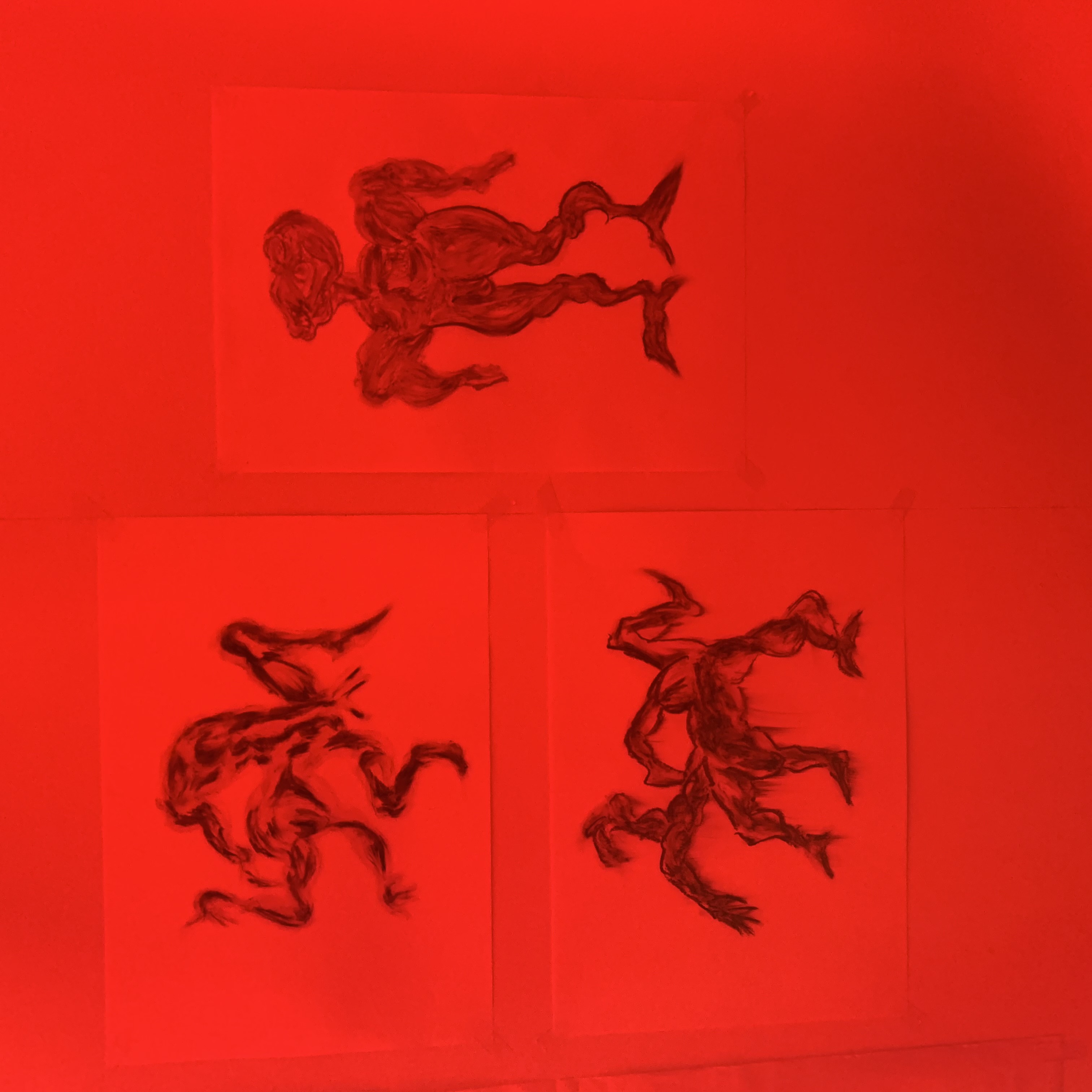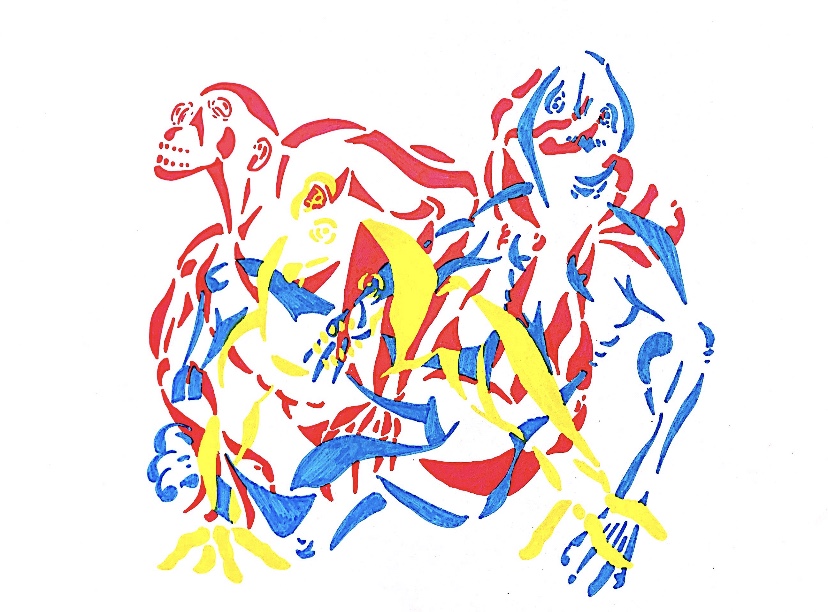 KNOWN STRANGERS
Keon Woo Kim
Keon Woo Kim, Known Strangers
Working on the personality, this is the important subject of my work these days. In fact, this is the first step to focus on my personality since after I started art. I mainly have meditated and researched my fundamental characteristics. And what I have finally found is fear, technically, it is the fear about all existences made by anxiety and paranoia. This fear eventually established itself as a Border / Boundary between others and me. And this boundary created images (or fantasies) of different perspectives on others.

I am so scared of everything in the world. The concept of existence is frightening. Be especially afraid of others/strangers. But among them, the people I like are the scariest. Sometimes I am delusional that everyone hates me. Every time I do that, I see other people as the scariest thing to me. I have an obsession with perfection so as not to be hated and not to be forgotten. Be perfect so as not to be hated. I have to do my best not to be abandoned.

In fact, it is the result of my creation that I am obsessed with fear and isolation in the boundary. It is just that I define others at my own disposal, and that I look others with my jaundiced eyes. The idea that I can solve this by myself can be conceited, and it is not an emotion that can be solved even if I constantly worry about it alone. So I am just going to share the image of perspective and worked on the opportunity to interact with others through this boundary. I hope to know if my fear is just a negative emotion through sharing this view, or if I have a chance to develop into something else.
SHADOW CREATURE
Daan Schoevaars
Daan Schoevaars, Shadow Creature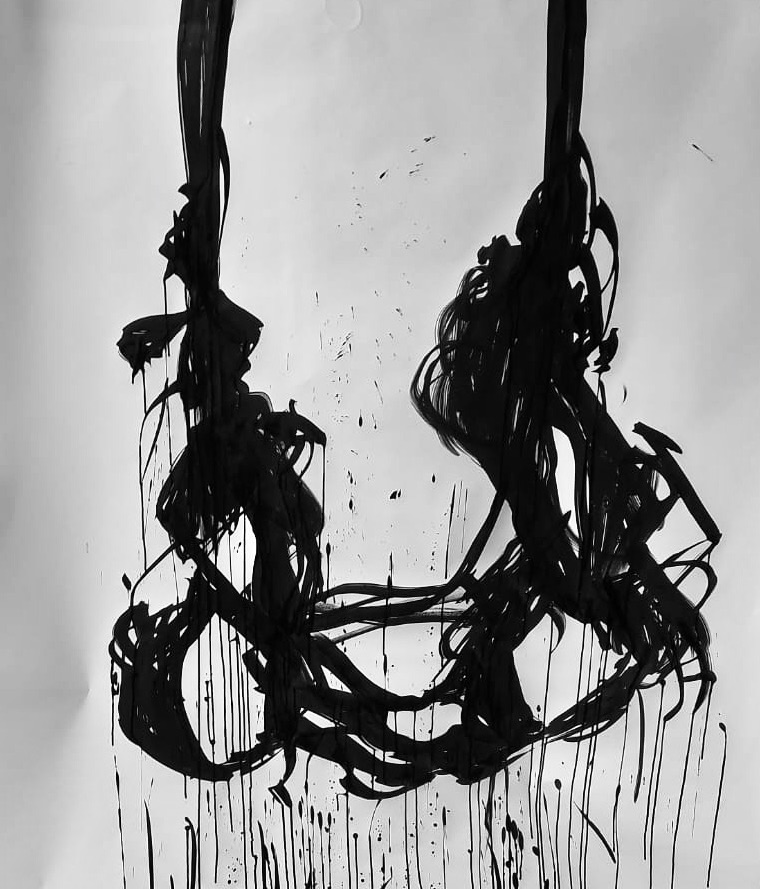 BEFORE THE PROJECT, I GATHERED VISUALS I ASSOCIATED WITH THE CONCEPTS DESCRIBED BY MICHELE IN HIS INTRODUCTORY VIDEO. AS I WENT THROUGH THE PICTURES AND THOUGHT ON THE CONCEPTS, I NOTICED MY MIND GOING TOWARDS 'CONTROL'., HUMANS CREATE CONFINES TO CONTROL A SPACE AND WHATEVER INSIDE THAT SPACE. BECAUSE I WORK A LOT WITH CONTRAST, THIS BROUGHT ME TO 'ORDER VS. DISORDER'. FROM THIS I STUMBLED UPON THE CONCEPT OF ENTROPY. IN MY RESEARCH INTO ENTROPY IN ART, I GOT STUCK. IN A TALK WITH MELANIE AND MICHELE, THEY ENCOURAGED ME TO LET GO OF ENTROPY AND START CREATING. THEY WERE RIGHT. I WAS STUCK IN MY HEAD AND ONLY THINKING INSTEAD OF MAKING. FROM THE FIRST FEW SKETCHES I MADE SMALL CLAY AND FABRIC MATERIAL SKETCHES. IN-BETWEEN WORKING, I STARTED EMDR THERAPY FOR MY TRAUMA OF ME BEING ABUSED AND RAPED. THIS TRICKLED INTO THE THOUGHTS ON THE CONCEPT OF LIMES/LIMEN; THE TRAUMA CREATED A BOUNDARY.. I FELT MY HUMANITY WAS TAKEN FROM ME, LEAVING A HOLE. THE EDGE OF THIS HOLE, WAS THE BOUNDARY. I WORKED WITH 'IT IS NOT ABOUT WHAT IS THERE, BUT ABOUT WHAT IS NOT'. I DO INTEND TO WORK ON THIS IN THE FUTURE, BUT I WISH TO LEAVE IT BE FOR NOW. I MOVED ON WITH JUST CREATING, MAKING LARGE PAINTINGS WITH A BRUSH THAT MEASURES 1,5M; I SET VERY CLEAR BOUNDARIES FOR THE WORK AND WORKED WITH THE CORONA DISTANCING MEASURE. WHILE MAKING THE PAINTINGS, THE CONCEPT OF CONTROL CAME BACK IN. I HAD LITTLE TO NO CONTROL OVER THE ACTUAL BRUSH AND PAINT BECAUSE OF THE DISTANCE. I STARTED CALLING THE PAINTINGS 'SHADOW CREATURES' AS THEY REMINDED ME OF SHADOWS, WHICH TO ME REPRESENT THE SPACE BETWEEN LIGHT AND DARK; THEY ARE THE GREY AREA INSTEAD OF THE BLACK AND WHITE. ANOTHER PIECE I MADE IS A LARGE BAMBOO CAGE FILLED WITH EXPANDING PU FOAM. THE FOAM PUSHES AGAINST THE CONFINES OF THE CAGE, FIGHTING ITS WAY OUT AND CONSUMING THE CONFINES IN ITS PATH, RECLAIMING THE SPACE.
Puk Terstal, Gedaantes
GEDAANTES
Puk Terstal
Can we perceive a body outside of ourselves and identify with this said thing?

Do we end where our limbs end.

Throughout the project I explored the physicial boundaries within a body, with a focus on my own. For I connect with my sculptures as if they are an extension of me.

With a proces filled with 3d renderings and drawings I tried to experience my limbs and movents in a way previously unknown to me. I got interested with the possibility of finding , a body, "aliveness" within something still.

My fabric culptures ,to me, leave a suggestion of 'gedaantes'. Giving a bodily presence to form through their position and shapes.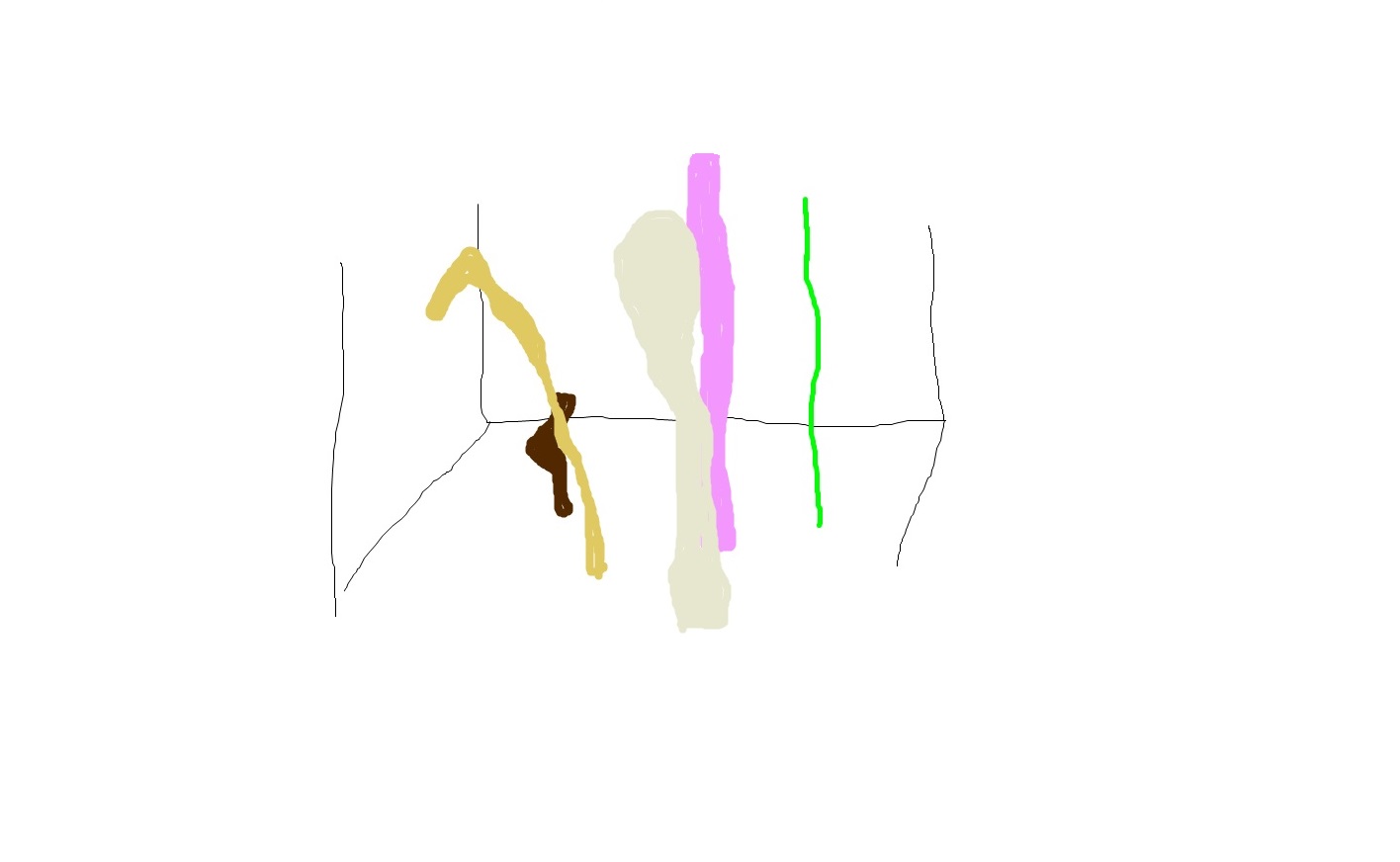 Ajna Lorincz and Liam Siepel, WARNING: You might take on unwanted responsibility for your life!
WARNING: You might take on unwanted responsibility for your life!
Ajna Lorincz
We were interested in working with personal borders and what qualities borders and boundaries have. A question that came up was: Does recognition of a border create the border itself? This made us think about one's own power to put up and take down barriers. Some people tend to let things over to fate even if it is within their own ability to change it. This often holds you back, and unnecessarily so. By participating in our work, we want to bring you the awareness that much more is in your power than you might think, and that it's your choice to act upon your life or to let it by.

Liam Siepel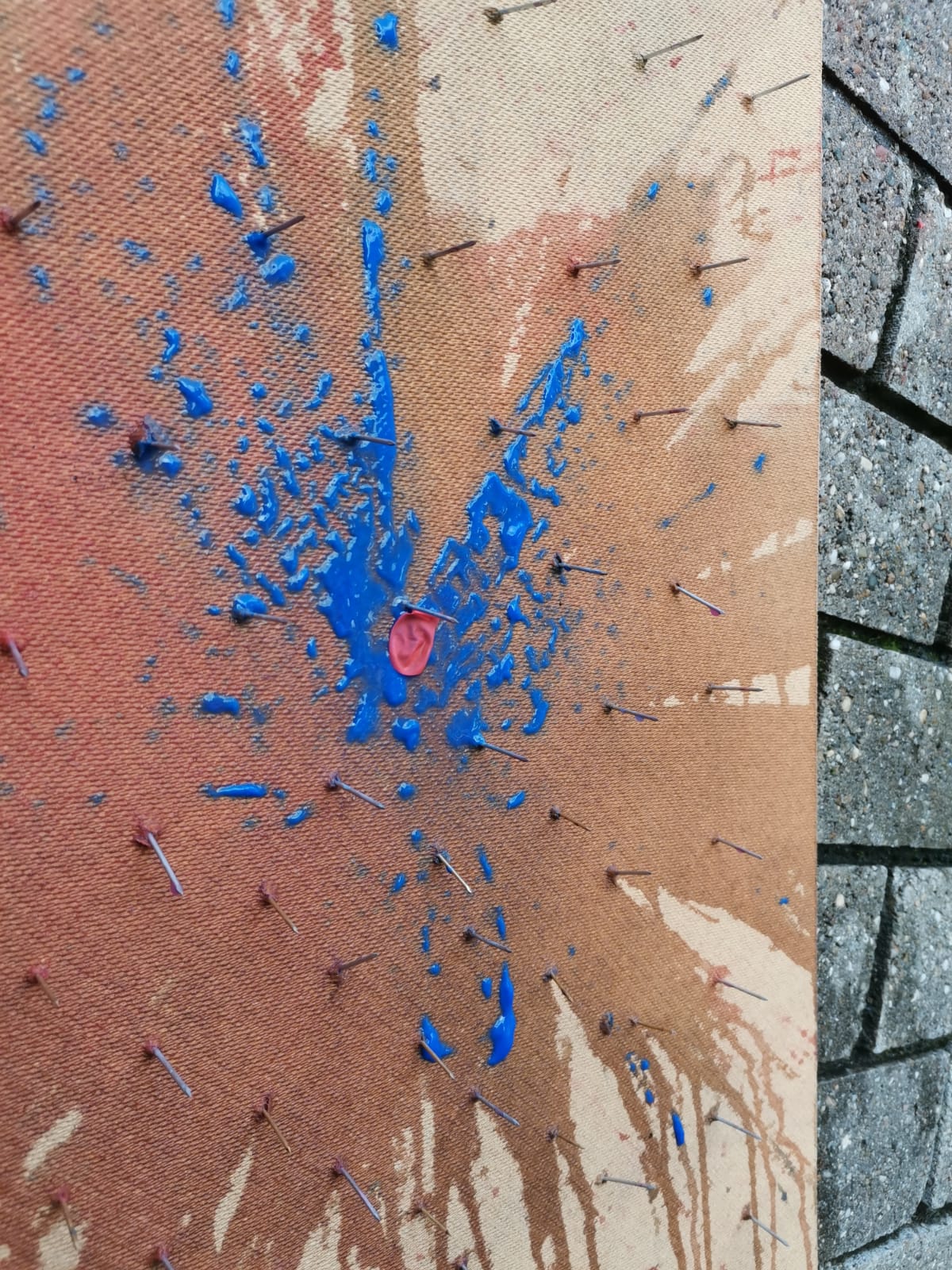 Maaike, on nearness as boundaries

on nearness as boundaries
Maaike

I worked on boundaries and borders as a possibility for nearness. Could a border be a neutral space where the things on either side of the border can connect? Could a boundary be a way to communicate care? How do boundaries of personal space operate in a time of corona? And what could such borders look like?
First, I looked into the border itself. Is it a line between two things? Is it a line that divides, or could it be a line that connects? Then, I learned that the iron curtain became a green strip for wildlife. This brought me onto the definition of a border as a line around a garden where people usually plant flowers.
At the same time, I was thinking about corona, also because I noticed that little attention was paid to keeping distance amongst students. I feel this boundary of personal space is very important to pay attention to.
I created boundaries in my studio to see what boundary would be too much for others to cross. I also asked some questions about corona and where one draws the line between ok and not okay behavior.
I found a plant that symbolizes distance.
I made a circle to create the personal space in corona time, and wondered if artists have some kind of exceptional position when it comes to adhering to distancing rules.
I worked on this, because I always look for connection with people. I want to understand how systems operate. I also worked from a combination of care and frustration when it came to corona distancing.
I am not satisfied yet. I think the research is a lot deeper than the work that came out of it so far, so I'm looking forward to continue along with the steps I've taken.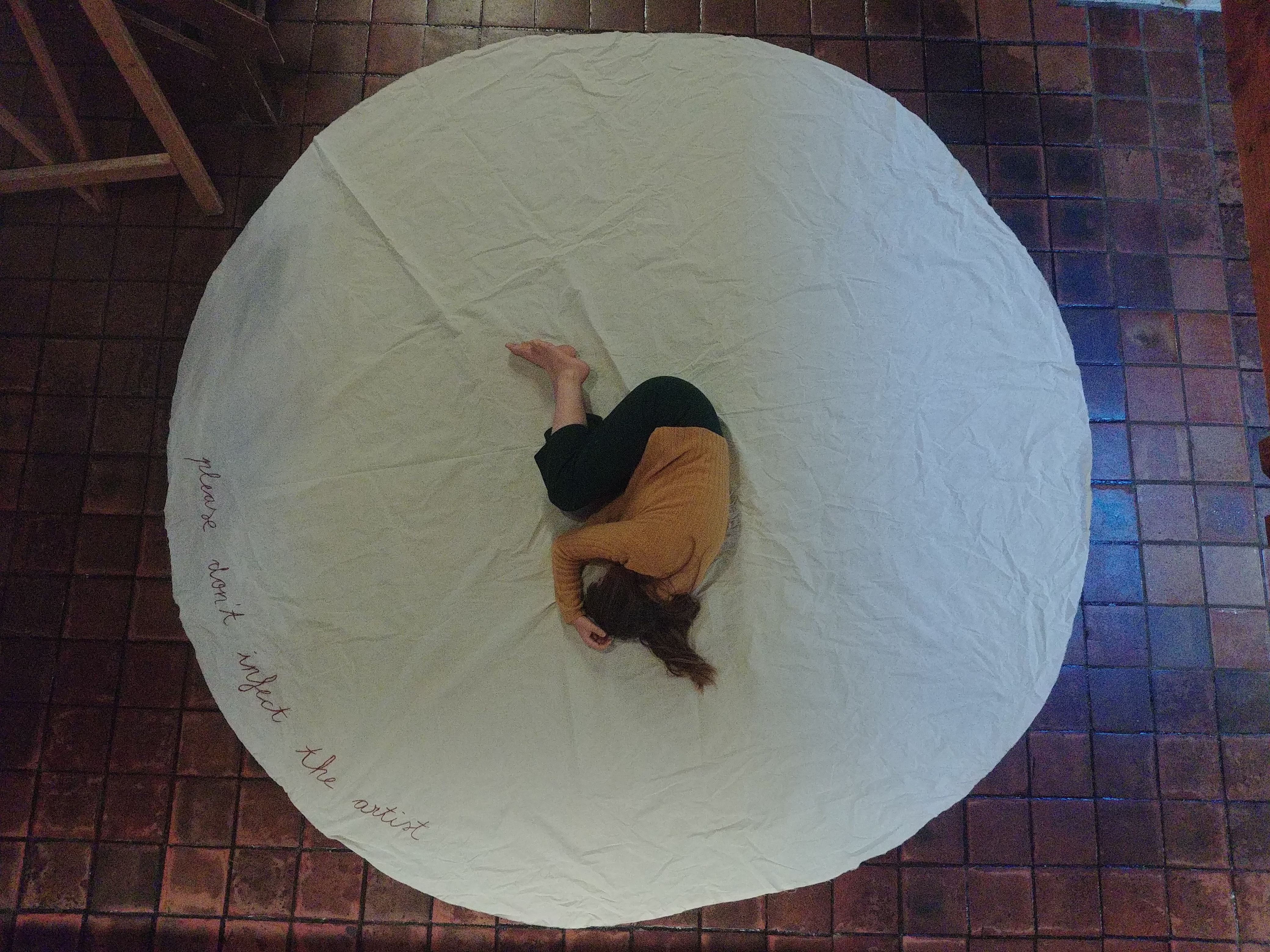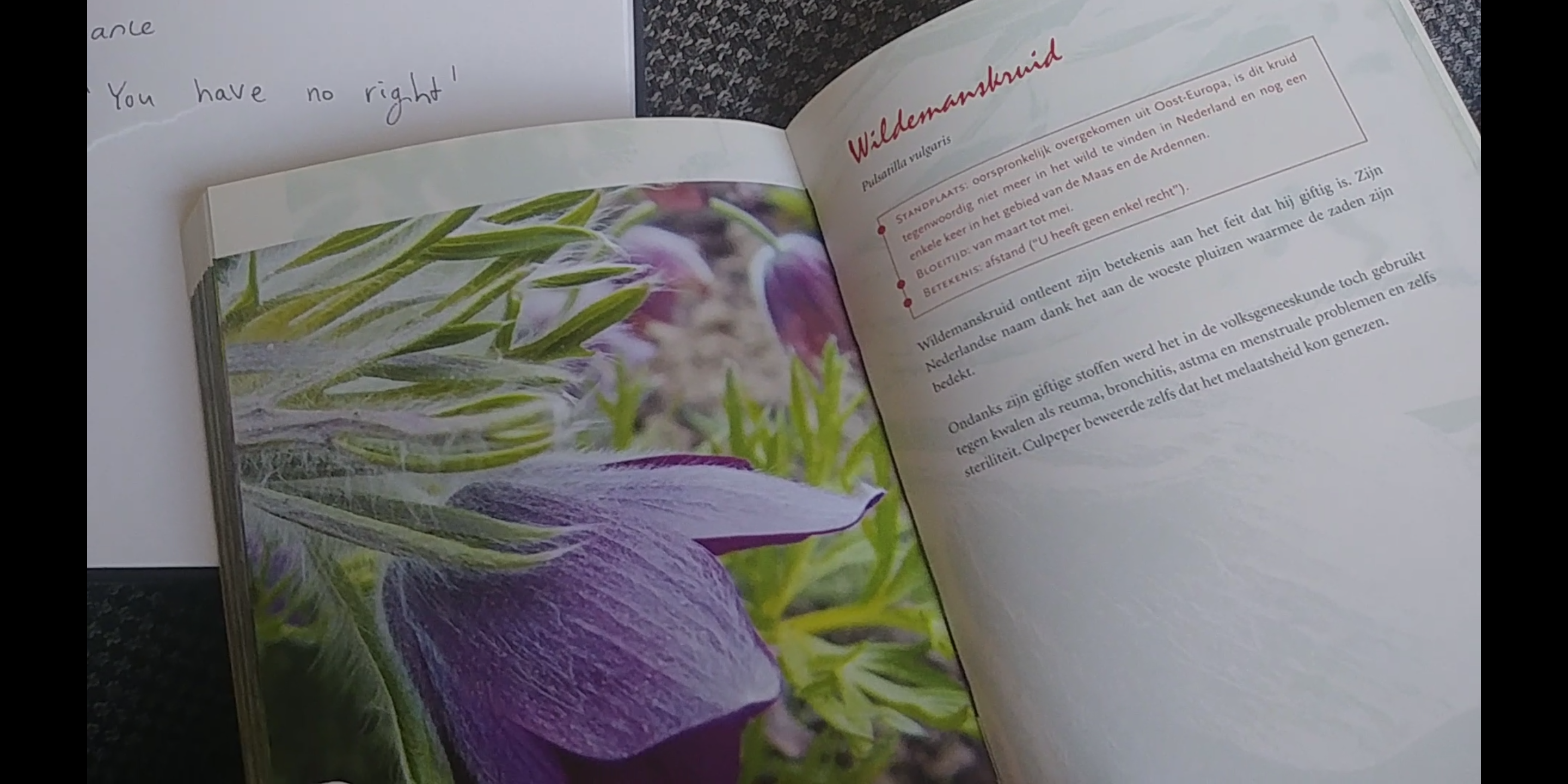 Matteo Zoccolo, Those are the questions, new and old, that I ask myself now

Those are the questions, new and old,
that I ask myself now
Matteo Zoccolo
Elisabetta Pagella, IS FOOD CONDITIONING or ARE WE CONDITIONED BY FOOD?
IS FOOD CONDITIONING or ARE WE CONDITIONED BY FOOD?
Elisabetta Pagella
What happens when you ask a person to think about food by associating it with a sad moment?
And vice-versa
What happens when you ask a person to think about a sad moment by associating it with food?
These two questions seem to be very similar, but the inversion of the two elements, FOOD and SAD MOMENT, drastically change the possible answer and its meaning.
In answering the first question, people tend to think about the food they hate, either because it was forced upon them as children, or because they were forbidden to taste it.
The answers to the second question instead focus on that negative, sad moment, and food is the element that evokes it.
As in James Joyce's book, Dubliners, the characters have an "epiphany", a singular moment, in which an object of ordinary life, in this case, a particular food, becomes "revealer" for a moment in his life.

To some people, I asked the first question, to others the second one.
By accident, I mixed-up the two questions, to find out that the answers were profoundly different.
This 'accident' unveiled the role that the word plays and how the question itself structures the thinking and the memory evoked.
.

Valentina Bonsignore Zanghi, Sharing Display

SHARING DISPLAY
Valentina Bonsignore Zanghi
It was during an URBAN EXPLORATION that a threshold came to me.
A simply white line framing the entry a door, in a house for sale.
I felt like someone invited me in, to cross this membrane embodying a space in between: in and out at
the same time.
This surface, that door.
Why do we decorate a threshold?
How do we feel that space?
These questions unfolded a new perspective on my research on exhibition display. The display as a
support structure does not only belong to the exhibitions, context, it is about the intercourse between
people, spaces and structures. Can a display turn into a dispositive of sociability?
Those questions lead me into building an exhibition display made of support structures as continuous
threshold, where the display itself needs people to support it. The structures were built on INSTABILITY.
Which means, the structures need sociability to stand.
SHARING DISPLAY is a workshop in which people take part in a completely free way. The aim of the
practice is to find out solutions in a space, making stable what is unstable. Especially, what I want to
achieve is to observe and to study what happens and how do people start a collaborative practice.
How is their relation with these structures creating a shared display?
.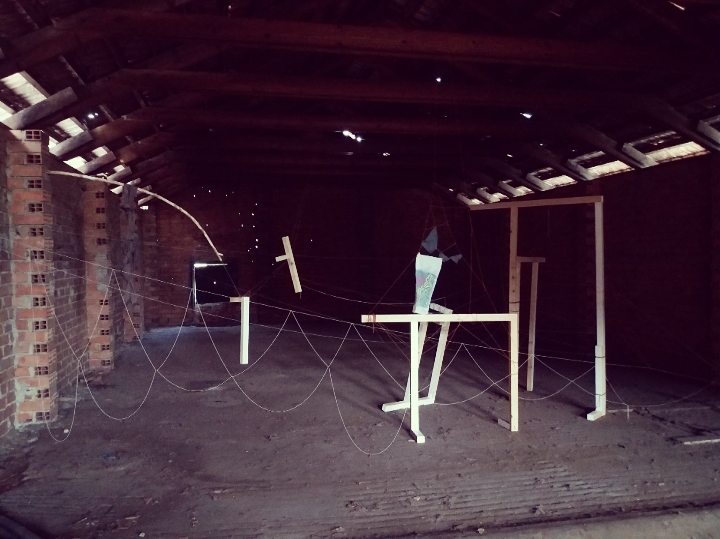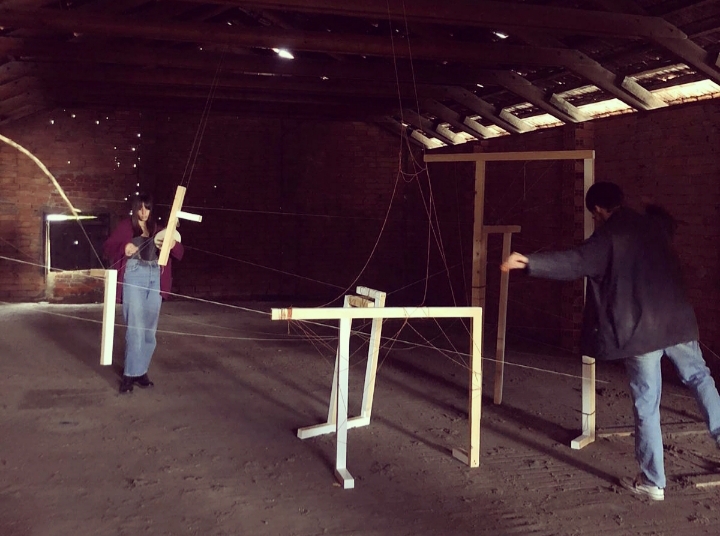 Vittoria Mascellaro, The Way you are me
THE WAY YOU ARE ME
Vittoria Mascellaro
There is a shared space between each of us and the other.
Who is "the other"? Anyone that can get in touch with us.
What is the quality of this space? I don't know yet, but I understand I

have to get used to it, so I started exploring it. On tiptoe, I opened care-
fully the vast curtain that stages life, and I began to play my role.

I did it by reversing the roles.
I wore the role of the "other", and I gave him/her mine.
In an exchange of letters and emails I started to stage "The way you are

me": a process of mutual identification with others, in which I investiga-
te the multiple points of view through which the other sees me, and in

the same way, I see the other.
"The way you are me" emerged from the awareness that the distance
between the "I" and the "other", often causes discomfort. Discomfort

related to the inability to listen to the other and to his/her needs. This di-
stance often remains unresolved in fear of falling into a vortex that could

reveal to ourself who we really are.
.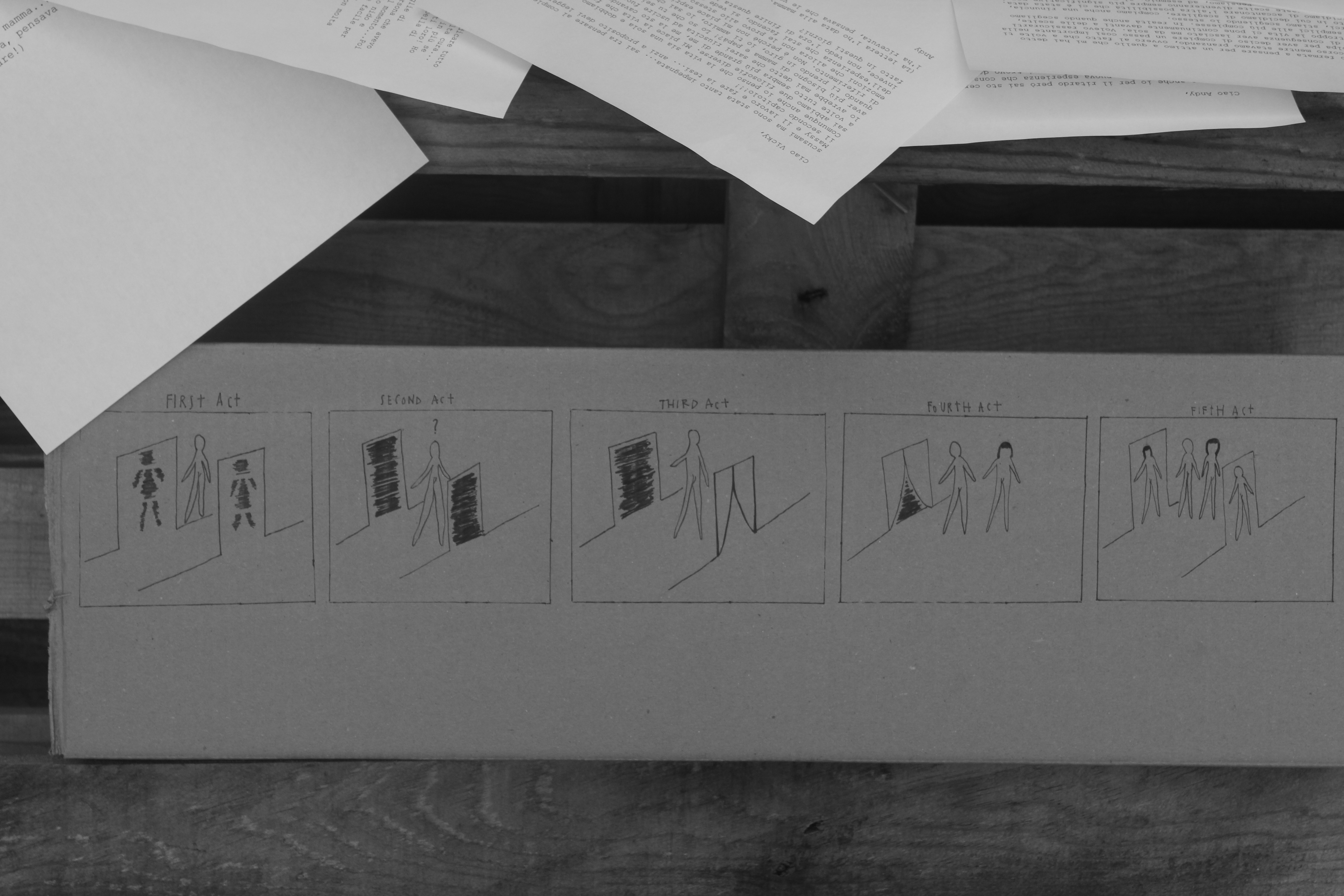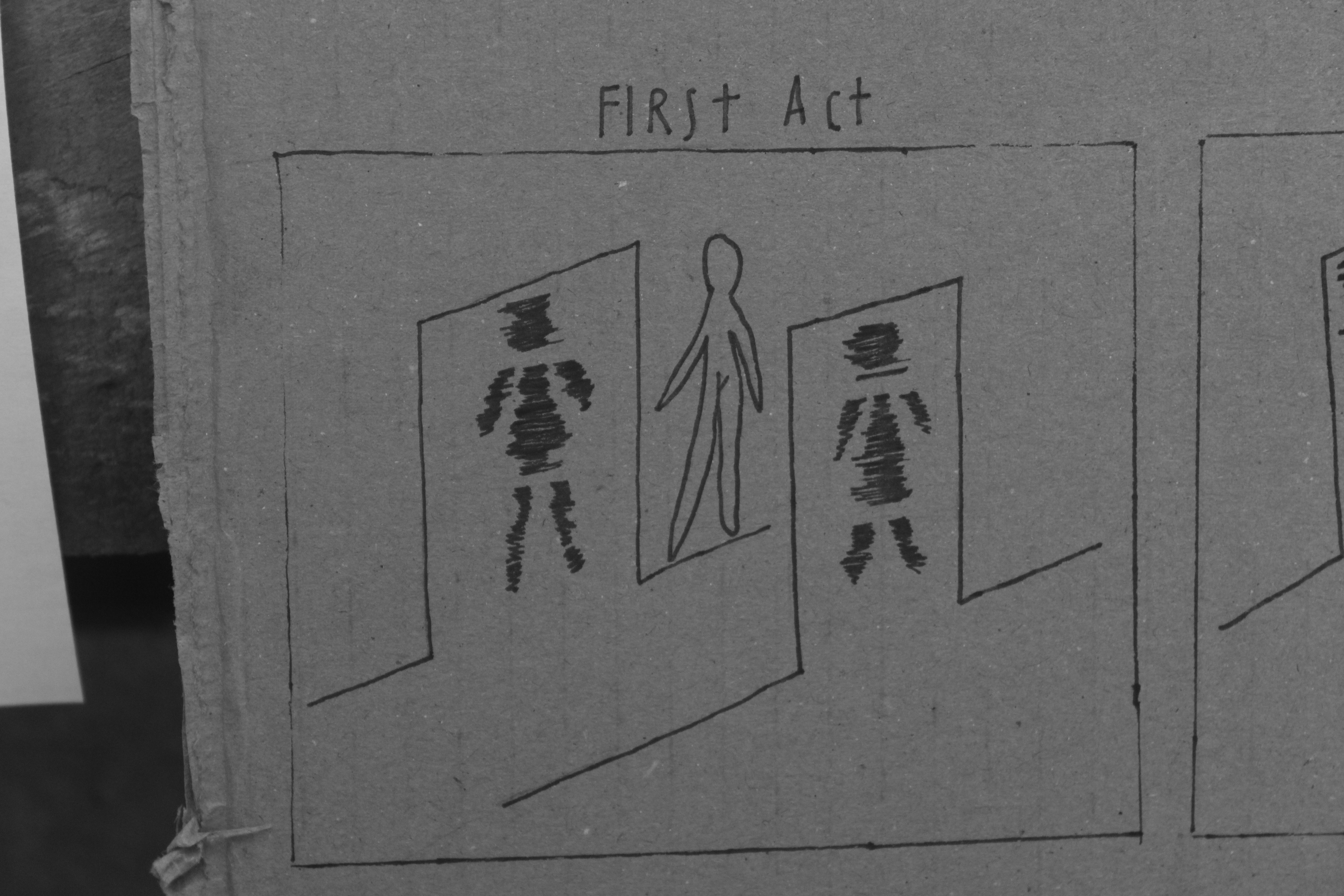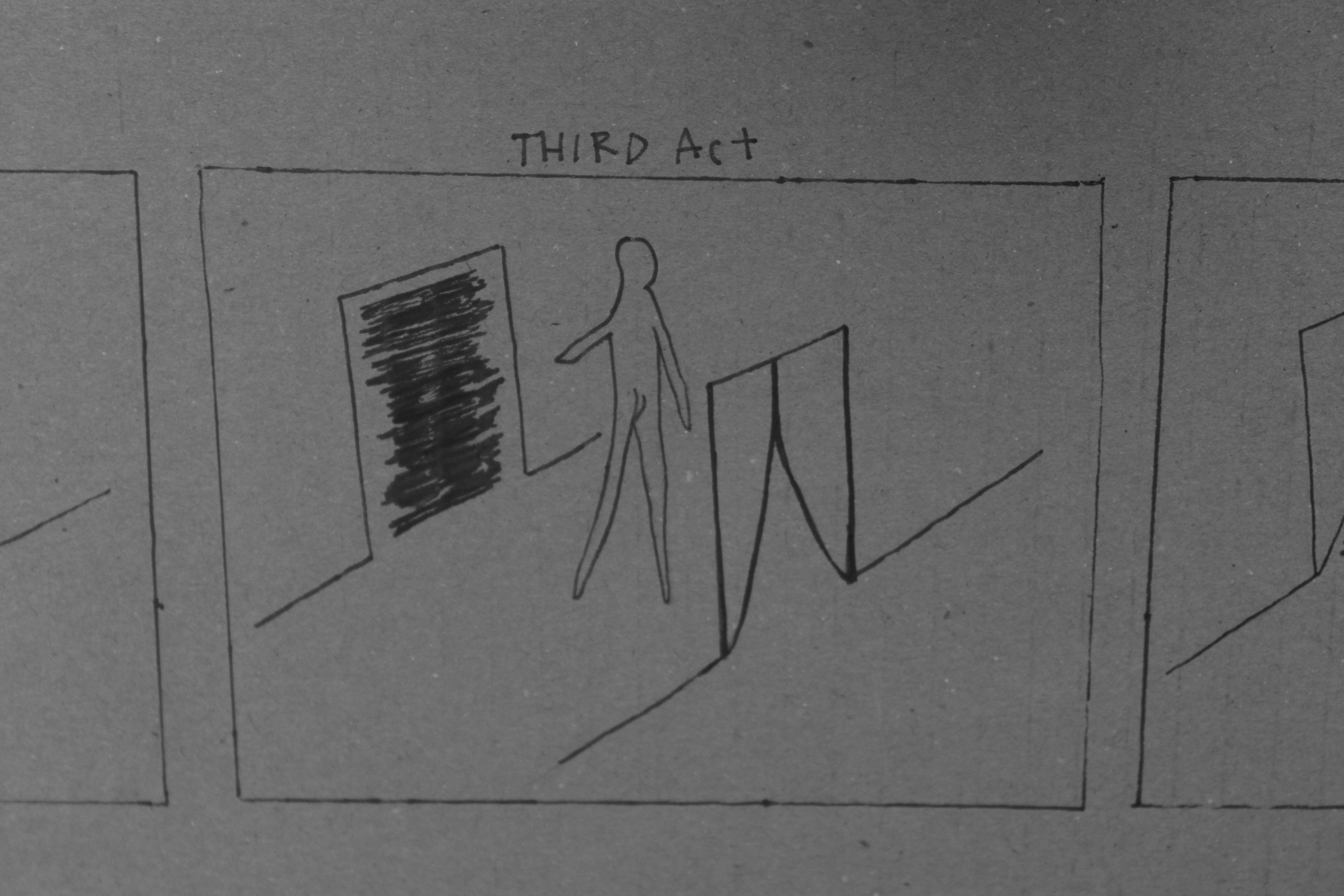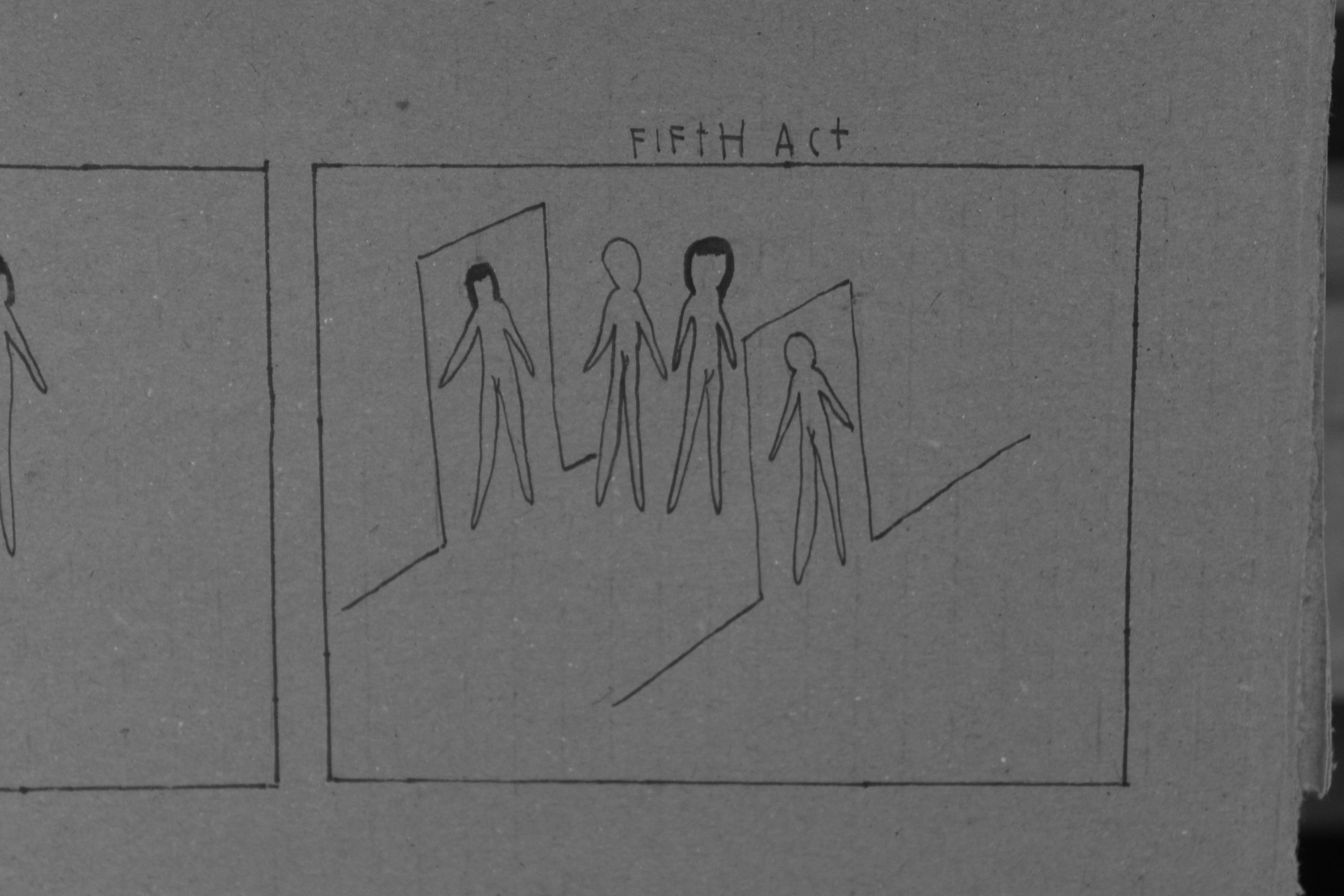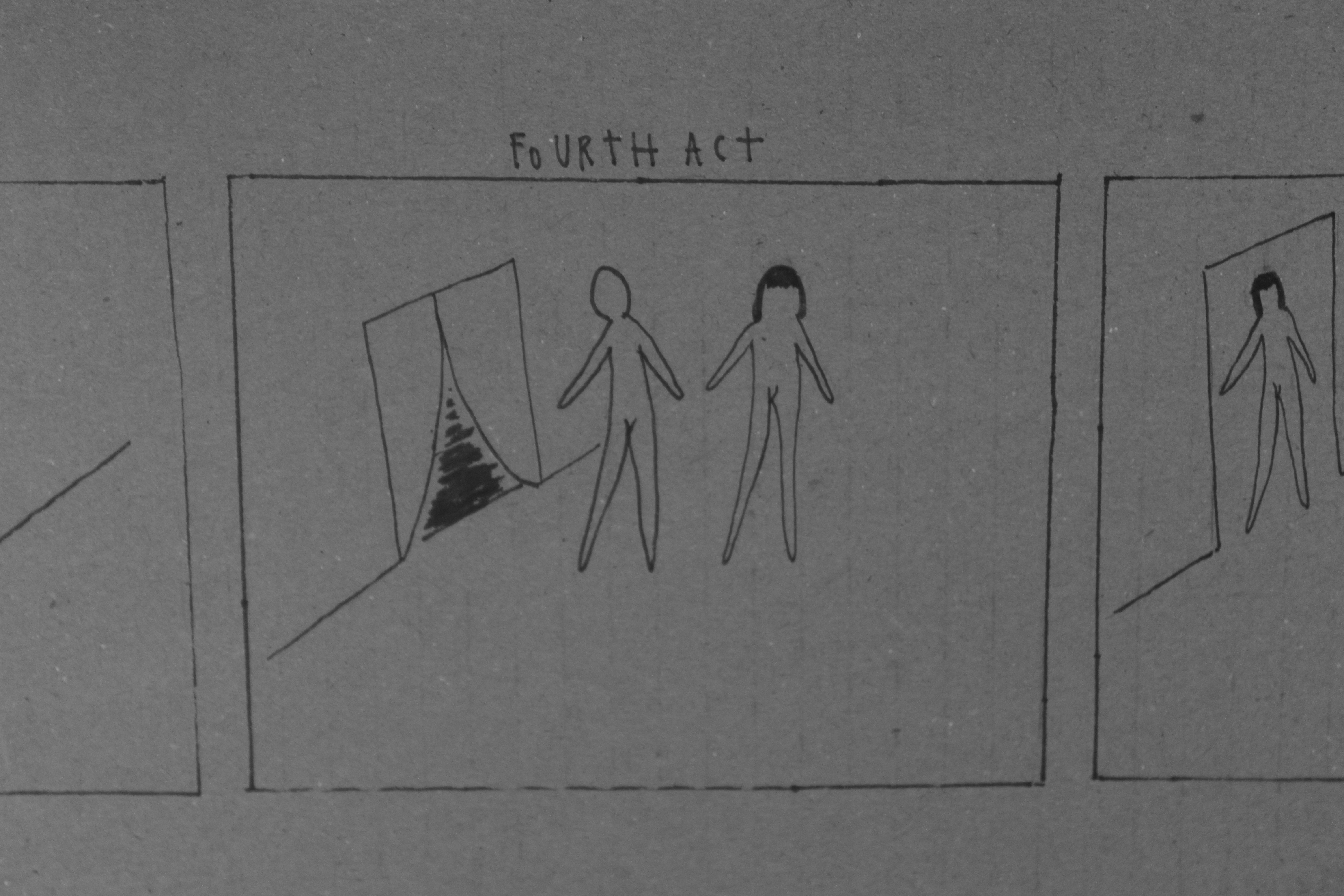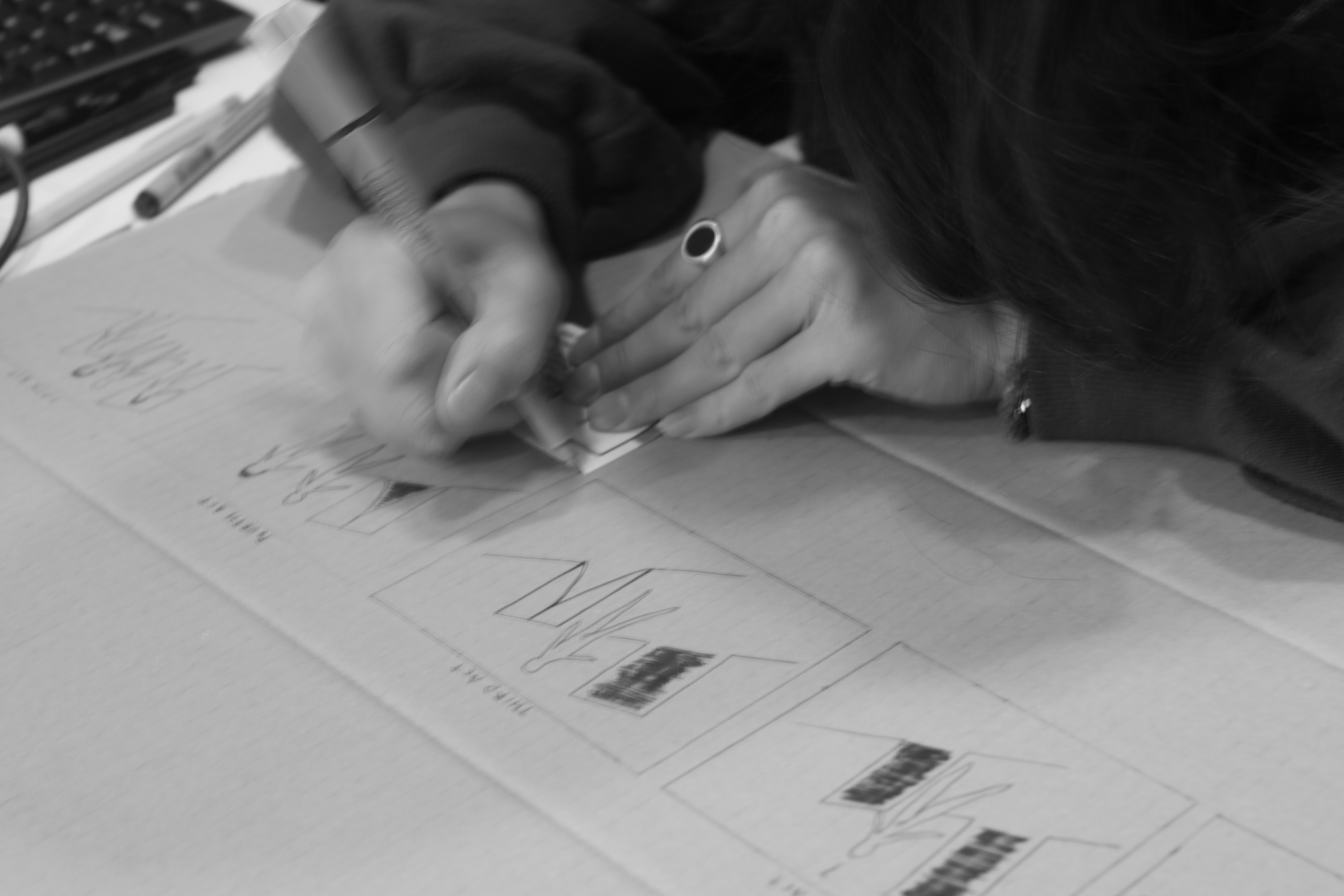 Francesca Vanoli, Io e mio papà
Io e mio papà
Francesca Vanoli
I always have been fascinated on boundaries between genders. At the moment I live in a society where there are, day by day, more differences between men and women. One day I woke up and as I went to the bathroom I realized that in my house there is a big boundary – that to tell the truth I have never noticed. The difference between men and women, and so between genders, is in my bathroom cabinet, which I share with my dad. I have never thought about it but I think my work started there.
Io e mio papà which means literally my dad and I, is the real portrait of my family, in a house that is still soaked of these prejudices. I sincerely have never realized that. I decided to look for all the differences inside my family, in my home.
What remains, now, is an empty bathroom cabinet where all the products are waiting to be prepared and placed in a different way than before.

Io e mio papà, 2020
Acrylic on canvas, 50cm x 50cm x 4cm
Francesca Vanoli, Cittadellarte

.